Ensoniq ESQ-1 40 patches for Synthpop, Synthwave, Soundtrack, Games, Italo Disco ++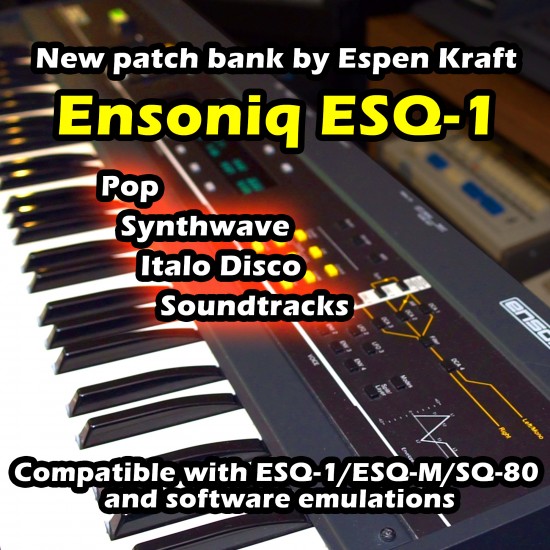 Artist Exclusive Presets Just Added Ensoniq ESQ-1

Ensoniq ESQ-1 40 patches for Synthpop, Synthwave, Soundtrack, Games, Italo Disco ++
Overview
40 brand new patches for the Ensoniq ESQ-1 / ESQ-M /SQ-80, the SQ8L free emulator and Arturias SQ80 V. For Arturias plugin, please use the "..
Status:

In Stock

Item ID:

F4MF9
Like this? Give it a share!
All major payment types accepted.
No payment details are kept on our server.
This pack is royalty free
Upon purchase you can use these sounds in your productions without worrying about copyright. You cannot re-sell, re-package in part or as a whole. Learn more
Please
Login
to contact & follow KRAFT
40 brand new patches for the Ensoniq ESQ-1 / ESQ-M /SQ-80, the SQ8L free emulator and Arturias SQ80 V. For Arturias plugin, please use the "Espen Kraft ESQ1 Bank" file for import.
Brass, strings, pads, keys, synths, bass and bells. All ready to go into your own music. These are sounds tailored for pop, synthwave, Italo Disco and Soundtracks. These are not particularly tailored for industrial- or darker experimental electronic music.
The download files is in sysex format and must be imported to your own hardware synth from a computer with a sysex transfer program, through your midi interface and into your synth.On an emulation you can just load the sysex file internally in your computer.
Some emulations that can import original sysex data, like the SQL-8, are capable of using these patches, but some, like the Arturia SQ-80 V, can be tricky. Software emulation compatibility must be regarded as a bonus usage.
The patches are the copyright of Espen Kraft and can be used in any commercial production without limitations. The patches cannot be resold or assembled into any other collection- or distribution online, or otherwise.
The Ensoniq ESQ-1 from 1986 is on of those classic hybrid synths from the 80s. It has digitally stored waveforms and analog filters. The ESQ-1 was the first synth of many aspiring synth people and it still holds a strong nostalgic grip on most of us. And it's still very much alive. It has a certain sound that many likes.
Documentation
Does this contain documentation?
Yes
File Information
File type
sysex
item information
Types of genres this pack is well suited to
Synthpop, pop, Italo Disco, Synthwave, Soundtrack, lo-fi, games etc
What type of audio production pack is this?
Ensoniq ESQ-1, ESQ-M, SQ-80 patches
Synth information
Minimum required synth version
1
Name of synth
Ensoniq ESQ-1, ESQ-M, SQ-80 and emulations of those
What's inside?
No. of presets
40
Questions
Customer feedback
Cannot get this to work with Arturia SQ80V. The import of soundbanks from other developper however works fine. Please fix this, thank you!
Seller's response
2023-07-25 14:54:25
I'm sorry that it didn't work out for you. I'm currently investigating the cause of this and as soon as I have a solution I will post an update video and hopefully it can be sorted out.
Shipping information
This product is digital only, no physical shipping is required.