Retrograde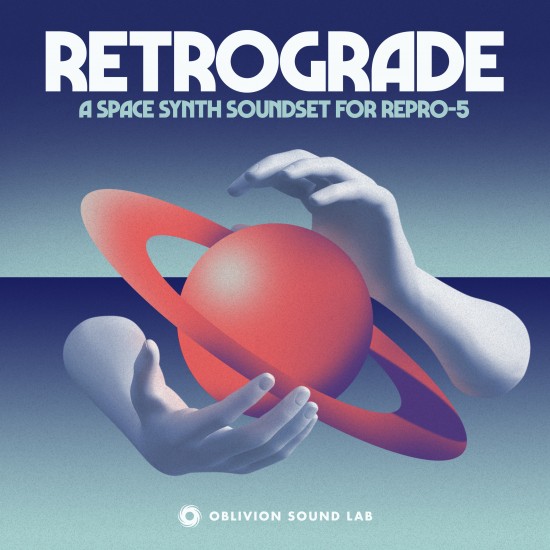 Presets Repro Sound Designer

Retrograde
Overview
A space synth soundset for u-he Repro-5Retrograde contains 120 brand new patches that evoke the vastness and wonder of the cosmos.For this s..
Status:

In Stock

Item ID:

0RJ2K
Like this? Give it a share!
All major payment types accepted.
No payment details are kept on our server.
This pack is royalty free
Upon purchase you can use these sounds in your productions without worrying about copyright. You cannot re-sell, re-package in part or as a whole. Learn more
Send a message to Oblivion Sound Lab
Please
Login
to contact & follow Oblivion Sound Lab
A space synth soundset for u-he Repro-5
Retrograde contains 120 brand new patches that evoke the vastness and wonder of the cosmos.
For this set we have revisited the classic analog sounds of space synth pioneers such as Tangerine Dream, Jean-Michel Jarre, Vangelis, Software and Kitarō, as well as drawing inspiration from modern composers like Majeure, Wojciech Golczewski and Le Matos.
Inside you will discover seismic basses, interstellar leads, cinematic pads and soundscapes, ethereal bells, soaring strings, cosmic sweeps, alien sound effects, complex plucks and more. Most of the patches have parameters mapped to modwheel or aftertouch, and NKS patches are included for integration with Native Instruments hardware (no audio previews).
Retrograde is perfect for Berlin School, Space Ambient, Synthwave, film scoring, or any style of music that needs to transport the listener to the outer limits.
Soundbank contents
19 bass patches
11 bell patches
6 brass patches
5 key patches
18 lead patches
21 pad patches
12 pluck patches
12 sound effect patches
5 string patches
11 synth patches
All patches in Native Instruments NKS format
PDF User Guide
Demos by The G, TORLEY, Monochrome Echo. All sounds are from Retrograde with the exception of percussion.
Documentation
Does this contain documentation?
Yes
File Information
File type
.h2p
item information
Types of genres this pack is well suited to
Synthwave, Berlin School, Space Ambient, Cinematic
What type of audio production pack is this?
Soundbank
Synth information
Minimum required synth version
Name of synth
U-he Repro-5
What's inside?
No. of presets
120
Questions
Customer feedback
This set is just amazing. Almost every preset inspires to experiment, in no time you have several of them built into a track. Wonderful sounds - perfect for everything you need to create your spacey analog dream songs.
Shipping information
This product is digital only, no physical shipping is required.