Ultimate 80s for PPG Wave 3.V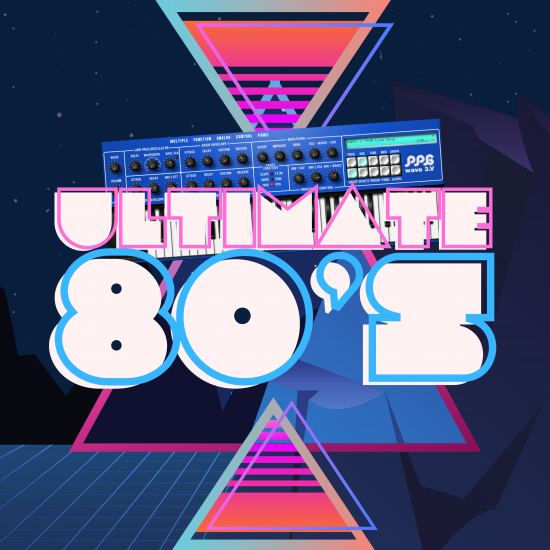 Presets Sound Designer PPG Wave


Ultimate 80s for PPG Wave 3.V
Overview
Our second PPG Wave 3.V soundset, "Ultimate 80s," contains another 128 retro-inspired sounds capturing the essense of a bygone era. As our p..
Status:

In Stock

Item ID:

KY54C
Like this? Give it a share!
All major payment types accepted.
No payment details are kept on our server.
This pack is royalty free
Upon purchase you can use these sounds in your productions without worrying about copyright. You cannot re-sell, re-package in part or as a whole. Learn more
Send a message to Xenos Soundworks
Please
Login
to contact & follow Xenos Soundworks
Our second PPG Wave 3.V soundset, "Ultimate 80s," contains another 128 retro-inspired sounds capturing the essense of a bygone era. As our previous release was originally created back in 2007, we wanted to revisit the PPG again with a brand new sound library.
Please note: This soundset is for PPG Wave 3.V only.
Patch List:
BA Analog Bass 1
BA Analog Bass 2
BA Analog Bass 3
BA Bitcrush
BA Cherry Flavor
BA Digital Bass 1
BA Digital Bass 2
BA Digital Bass 3
BA Echowave
BA Essential Sub
BA Fat Bass
BA FM Bass
BA Heated Jazz
BA Metallic Pluck
BA PPG Bass
BA Red Tone
BA Soft Bass
BA Soft Saw
BA Square Bass
BA Suspence Drone 1
BA Suspense Drone 2
BA Wubby Subs
BA Zedwave
BL Analog Bells
BL Bali Bellsynth
BL Chill Bells
BL Chimes
BL Echo Mallets
BL FM Mallet
BL Glassy Mallets
BL Glockenspiel
BL Lithophone
BL Marimba
BL PPG Bells
BR Brass 1
BR Brass 2
CH House Chords 1
CH House Chords 2
CH Mecha 5ths
FX Distant Cry
FX LFO Riser
KB 80s Ballad
KB Analog Keys 1
KB Analog Keys 2
KB Digi Funk
KB FM E Piano
KB Funky Clavi
KB Ghostly
KB Glass Ice
KB Glorious Squares
KB Love Song
KB Neo Classic
KB New Wave Piano
KB Oldies Organ
KB Organic Fruits
KB Organoid Piano
KB Peaceful PPG
KB Plucky Keys
KB PPG Organ 1
KB PPG Organ 2
KB PPG Pulse Keys
KB Punchy Organ
KB PW Keys
KB Relaxed Mood
KB Sad Song
KB Shanghai
KB So Chill 1
KB So Chill 2
KB Thin PPG
KB Unison
KB Wacky Keys
KB Warm E Piano
KB Waveterm B
KB Winterscape
LD Analog Lead 1
LD Analog Lead 2
LD Analog Lead 3
LD Analog Lead 4
LD Blue Funk
LD Fat Lead
LD Flux Sonics
LD PPG 5ths
LD Soft Lead
LD Square Lead
LD Sync Lead
LD Trap Banger
LD Uptempo Softie
PD Abandoned Church
PD Analog Pad
PD Brain Hack
PD Bright Ana Pad
PD Couch-Locked Robots
PD Cyberscramble
PD Dreamscape
PD FM Creepy Voices
PD Groove Pad 1
PD Groove Pad 2
PD Ice Crystals
PD LFO Pad
PD Lush Pad
PD Melancholy Mood
PD Mellow Pad
PD Psionic Revelations
PD Pump Pad
PD Retro Pad
PD Retrostars
PD Rhythmic Motion
PD Totally Trippin'
PD Undunlations
PD Voices 1
PD Voices 2
PD Waveterm Strings
PL Analog Plucks
PL Chiptunes
PL Creepy Sonar
PL Digiphat
PL Itty Bitty
PL Little Tooter
PL Quantum Raga
PL Robo Bass Plucks
PL Romantico
PL Scrapesynth
PL True PPG Plucks 1
PL True PPG Plucks 2
PL True PPG Plucks 3
PL Wacky Waves
PL Zenbots
File Information
File type
FXB
item information
Types of genres this pack is well suited to
80s, Synthwave, Chillwave, Synth Pop, Cyberpunk, Darksynth, House, Lo-Fi
What type of audio production pack is this?
Presets
Synth information
Name of synth
PPG Wave 3.V
What's inside?
No. of presets
128
Questions
Reviews
There are no reviews yet!
Shipping information
This product is digital only, no physical shipping is required.