Analog Porn for PS-20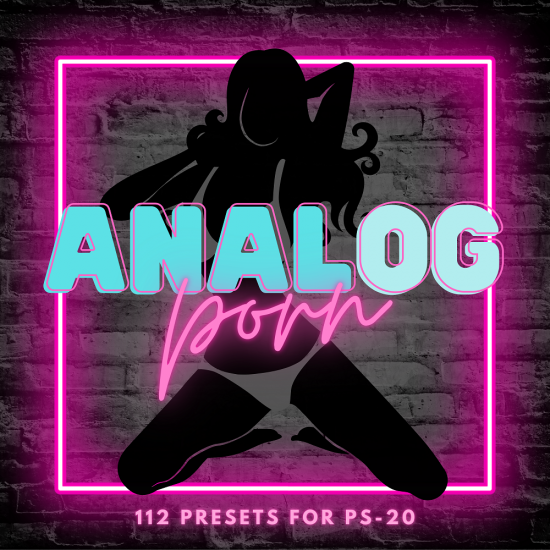 Presets Sound Designer PS-20 -7 %


This listing is on sale
Discounts on this item are automatically applied. Click the button below to see more on sale items.
Analog Porn for PS-20
Overview
Contains 112 retro-inspired presets for Cherry Audio's PS-20 synthesizer. With a name like 'Analog Porn', expect to hear plenty of that beau..
Status:

In Stock

Item ID:

9BK04
Like this? Give it a share!
All major payment types accepted.
No payment details are kept on our server.
This pack is royalty free
Upon purchase you can use these sounds in your productions without worrying about copyright. You cannot re-sell, re-package in part or as a whole. Learn more
Send a message to Xenos Soundworks
Please
Login
to contact & follow Xenos Soundworks
Contains 112 retro-inspired presets for Cherry Audio's PS-20 synthesizer. With a name like 'Analog Porn', expect to hear plenty of that beautifully raunchy character the vintage MS20 hardware is known for. You'll get lots of grimy basses, filthy leads, dusty keys, greasy pads and more. The patch cable section has been used extensively, often creating sounds that simply aren't possible in most synths. Also, each preset is velocity sensitive and has the modwheel assigned for more expressive playing. Grab your copy today and get nasty! Add some sleazy grit to your Synthwave track, toughen up that Trap beat, or bring in a screaming solo to your live rock band. Fire up some Analog Porn and satiate that nagging need for those unique and grunged-up retro sounds that made the MS-20 famous!
Patch List
AR Retro Runner
BA 400 Pounds Of Love
BA Alkaline Base
BA Analog Bass 1
BA Analog Bass 2
BA Analog Brute
BA Dark Acid
BA Deep Plucks
BA Dirty Old Man
BA Doom Drone
BA Dusty Sub
BA Essential Saw
BA Filter FM
BA FM-Like
BA Grunge Bass
BA Hard N Dirty
BA Industrial Strength
BA MS Bass Plucks
BA MS Bright Bass
BA MS Punch
BA MS Squelch
BA Phatman
BA Retro Whump
BA Slo Phat Sub
BA Soft Punch
BA Square Bass
BA Stiff Bass Plucks
BA Synthwave Pluck
BA Totally 80s
BA Trap 808 Sub
BA Wet Kisses
BA Wow Bass
BL MS Bells
BL MS Bells 2
BL MS Chimes
BL MS Mallets
BL Synthwave Mallets
BR MS Brass 1
BR MS Brass 2
BR MS Brass 3
CH Motion Chord
CH Videogame Chords
DR Hexagon Tom
FX MS Riser
FX Psydrops
FX Spaghetti Cables
KB Chromatic Noise
KB Classic Poly
KB Creepy Shivers
KB Dirty Haze
KB Flutey Church Organ
KB LFO Keys
KB MS Keys
KB MS Organ
KB MS Saw Keys
KB Soft N Sweet
KB Sweet Analog Keys
KB Totally Busted
KB Tremolo E Piano
KB Vintage Poly
KB Whimsical
LD Acid Flute
LD Aiyah!
LD Blazing Fury
LD Booty Jiggle
LD Brassoid House Lead
LD Classic Solo
LD Creamy PWM Lead
LD Dirtscreamer
LD Dirty Attack
LD Duophonic Lead
LD Edgy Solo
LD FM Solo
LD Glowsticks
LD Gritty Saw Glider
LD Gutteral 00's Lead
LD Heated Square
LD Low Screech
LD MS Bowed Lead
LD Old Tech Lead
LD Otherworld
LD Peppermint Glider
LD Phaser-ish Solo
LD Rezzy 5ths
LD Sync Solo
LD Unison Lead
LD Vocal Solo
LD Woody Cheese
PD Apocalyptic Moods
PD Demon Puke
PD Ghostly Feel
PD MS S+H
PD MS Strings
PD MS Swells
PD Phantasm
PD Pumping Pad
PD Retrosweeps
PD Robomonks
PD Spirit Realms
PD Vintage Vocals
PD Warm Pad
PL Analog Koto
PL Classic Plucks
PL Eastern Flavor
PL MS Plucks
PL Pluck Or Bass
PL Plucked 5ths
PL Short Plucks
PL Squeaky Scrubby
PL Sweet Plucks
PL Tremolo SynStrat
PL Videogame Plucks
item information
Types of genres this pack is well suited to
80s, retrowave, synthwave, chillwave, trap, lofi hip hop,
What type of audio production pack is this?
presets for ps-20.
Synth information
Name of synth
PS-20
What's inside?
No. of presets
112
Questions
Reviews
There are no reviews yet!
Shipping information
This product is digital only, no physical shipping is required.