Apocalyptic Visions for NI Massive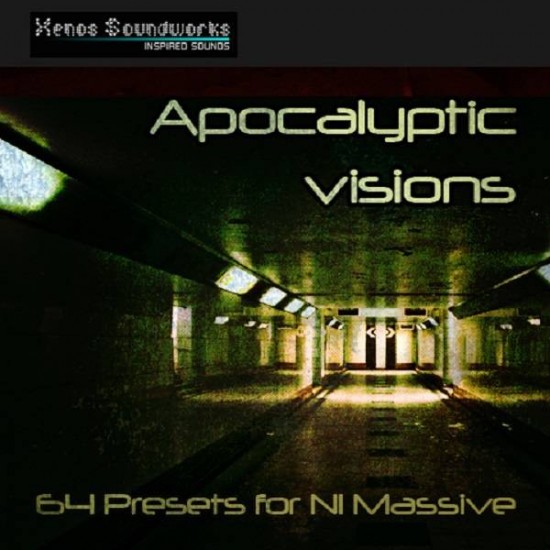 Presets Sound Designer
Apocalyptic Visions for NI Massive
Overview
'Apocalyptic Visions' brings you 64 disturbing pads, insane soundscapes, creepy sound effects, fantasy acoustic musical instruments, dark ba..
Status:

In Stock

Item ID:

D8GK59
Like this? Give it a share!
All major payment types accepted.
No payment details are kept on our server.
This pack is royalty free
Upon purchase you can use these sounds in your productions without worrying about copyright. You cannot re-sell, re-package in part or as a whole. Learn more
Send a message to Xenos Soundworks
Please
Login
to contact & follow Xenos Soundworks
'Apocalyptic Visions' brings you 64 disturbing pads, insane soundscapes, creepy sound effects, fantasy acoustic musical instruments, dark basses, and moody bells. This collection is aimed at producers of sci-fi, thriller and horror film and game soundtracks, as well as those who produce dark ambient, deep dubstep, drum & bass, psychill, future garage, IDM, industrial, and even death metal. All 8 Macros are assigned intelligently for radical changes in the sound. Also check out the "comments" box for each patch, under the "Atrributes" tab. Most of the comments are fictional diary entries outlining a post-apocalyptic story to immerse you in the experience and inspire new song ideas. Please note that this set is in NMSV format only.
About the Producer:
Bryan 'Xenos' Lee has worked as a sound designer for such companies as Native Instruments, Cakewalk, Rob Papen Inspiration Soundware, ReFX, Camel Audio, Image-Line and many more. His work is found in several Maschine expansions and the factory presets of such synths as u-he Repro 5, Hive, Z3ta 2, Alchemy, Gladiator, Punch, Toxic Biohazard, Scanned Synth Pro 2, Chipsounds, etc.
Patch List:
AT AbominationAT Battered BuchlaAT Black Hole MonolithAT Deadly ContagionAT Meth Chef's RecipeAT Waterworld MonolithBA Doomstep Deep ReeseBA Doomstep StaccatoBA Doomstep SubBA Doomstep WhumpBA Doomstep WobbleBA Utilitarian BassBL Apocalyptic LullabyBL Euphoric MalletsBL Feeling Of RustBL Frozen FM BellsBL Pulsar LightsBL Nuclear WinterBL Temple ChimesDR Blackwater CinematicFX 100 RadsFX Brain ScramblerFX Cinematic Bass HitFX High StakesFX Horror DubFX HyperdubFX Nanotech Ego DeathFX Ominous RumblingFX Psy BombFX Shandra's NightmareFX Silver MushroomsFX TormentKB Church OrganKB Unprepared PianoLD Cat Meat With BeansLD Ethnic ReedsPD Barren LandscapePD Busy NanobotsPD Count Your BlessingsPD Dark AlleyPD Dead CitiesPD Deep Sea UFOPD Granular ClustersPD Holy SanctuaryPD Human Black HolePD Killing FeildsPD Lost OrphanPD Melancholy MoodPD Metallic HazePD More Bodies Than PatientsPD Panic AttackPD PsychonautPD Quicksilver FlavorPD Ruins Of DetroitPD Salvia HellscapePD S.T.A.L.K.E.R. CatPD Threat Level YellowPD Whore Of BabylonPL Makeshift GuitarPL Makeshift ZitherPL Retro KeysPL Rusty Dulcimer
PERSONAL NOTES from the developer:
Check out the patch "KB Unprepared Piano". It's my personal favorite and sounds EXACTLY like a distressed, prepared grand piano!
Genres:
Ambient, Breakcore, Chillout, Dubstep, Drum & Bass, Electro, Experimental, IDM, Metal, Pop, Sountrack, Trip Hop, World
File Information
File type
item information
Types of genres this pack is well suited to
soundtrack, ambient, horror, chillout, deep dubstep, dark trap
Synth information
Name of synth
NI Massive
What's inside?
No. of presets
64
Questions
Reviews
There are no reviews yet!
Shipping information
This product is digital only, no physical shipping is required.