Vintage 70s and 80s for Z3ta+ and Z3ta 2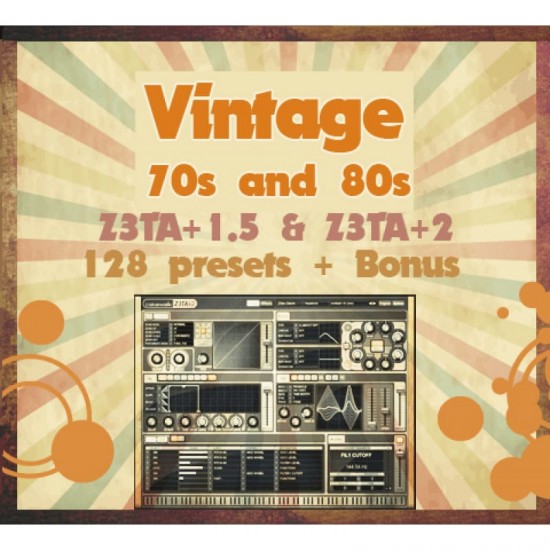 Presets Sound Designer -22 %
This listing is on sale
Discounts on this item are automatically applied. Click the button below to see more on sale items.
Vintage 70s and 80s for Z3ta+ and Z3ta 2
Overview
"Vintage 70s and 80s" for Z3ta+ 1.5 and Z3ta 2, contains a wide variety of sounds inspired by many popular hits from the 70's up to the late..
Status:

In Stock

Item ID:

GG9933
Like this? Give it a share!
All major payment types accepted.
No payment details are kept on our server.
This pack is royalty free
Upon purchase you can use these sounds in your productions without worrying about copyright. You cannot re-sell, re-package in part or as a whole. Learn more
Send a message to Xenos Soundworks
Please
Login
to contact & follow Xenos Soundworks
"Vintage 70s and 80s" for Z3ta+ 1.5 and Z3ta 2, contains a wide variety of sounds inspired by many popular hits from the 70's up to the late 1980's; covering such genres as synthwave, classic rock, new wave, disco, oldschool hip hop/breakdance, and even early underground rave music. The soundset ships with two versions - the Z3ta 1.5 version FXB file containing 128 sounds, plus the Z3ta 2 version which contains an additional 12 bonus sounds for a total of 140 presets.
About the Producer:
Bryan 'Xenos' Lee has worked as a sound designer for such companies as Native Instruments, ReFX, Cakewalk, U-he, Rop Papen, Camel Audio, Image-Line and many more. His work is found in the factory presets of such synths as Alchemy, Repro 5, Hive, many Native Instruments Reaktor ensembles, Z3ta 2, Gladiator, Punch, Toxic Biohazard, Scanned Synth Pro 2, Chipsounds, etc.
Patch list
BA Ana Bass Hits
BA Analog Bass 1
BA Analog Bass 2
BA Analog Basss 3
BA Bass Plucks
BA Billie Jean
BA Blind Science
BA Breakdance
BA Bright Ana
BA Digi Bass 2.3
BA Early Rave Bass
BA Electrospitter
BA Fat Moog
BA Fat Sub Bass
BA Funky 303
BA Funky FM Bass
BA Lo Fi Digital
BA Moist Bass
BA New Wave
BA Octave Bass
BA Old School Goa
BA Old Video Game
BA Phat Electro
BA Rave Bass
BA Rip It Up
BA Stereo Bass
BA Sweet Spot
BA Vintage Square
BA Viper Spit
BA Warm Bass
DN Cinematic Drone
DR Octagon Toms
FX Galaway Noise Stab
FX Krazy Lasers
FX Oxygene Stab
FX Psychocopter
FX Rezzo Riser
KB Analog Clavi
KB Analog Organ
KB Analog Wurly
KB Cheesy 60s
KB Pharphisa
KB Sparkling E. Piano
LD Chameleon
LD Classic Square
LD Creamy Mini
LD Detroit Techno
LD Dirty Sync
LD Fat Funk Lead
LD Fat Pulse Lead
LD FM Power Lead
LD Grungy Bandpass
LD Mellow Lead
LD Mondo Lead
LD Not Brass
LD Poly Funk
LD Power Fifths
LD Reedy Lead
LD Rock Da Show
LD Rock Sync
LD Sad Lead
LD Salty Flavor
LD Shake 'em Down
LD Six String Blues
LD Slo Funk
LD Solo Strings
LD Solo Synth Trumpet
LD Sparkling Eyes
LD Synth Flute
LD Synth Violin
LD Synthetic Oboe
LD Wet N Funky
LD Yoing!
PD 80s Warm Pad
PD Big Retro Pad
PD Classic S&H
PD Creamy Pad
PD Feel The Love
PD Glassy Pad
PD Inner Light
PD Metallic Pad
PD Pluckpad
PD Pure Synth No FX
PD She Has Landed
PD Space Choir
PD Synth Strings 1
PD Synth Strings 2
PD Synth Strings 3
PD Synth Strings 4
PD Vertigo
PD Vintage Ooh's
PD Vintage Vox
PD Warm And Juicy
PD Wave Scanner
SY Ageless Synth Keys
SY Analog Brass
SY Analog Chimes
SY Analog Plucks
SY Beefy Bandpass
SY Blissful
SY Celesial PWM
SY Chaser Bells
SY Chinese Zither
SY Chiptune Standard
SY Cloud Nine
SY Digiwave Keys
SY Fat Poly Keys
SY Fine Vintage
SY Funky Duck
SY Glassy Arp Food
SY Heary Bells
SY Hold to Swell
SY Jazzy Plucksynth
SY Juneau 106
SY Like Butter
SY Plastic Pizzicato
SY Pulse Keys
SY Rio Duran
SY Shivers
SY SID Chip Chords
SY Spitting Brass
SY Sunshine
SY Sweet Bells
SY Syntar
SY Thick Ana Keys
SY Wavescanned Bells
SY Zen Synth
Bonus Patches Included in Z3ta 2 version
BA Mellow FM Bass
BA Mr. Crowly
BA Wavetable Bass
FX Slow Down
LD Frankenstein
LD Purple Floyd
LD Sweet Pulse Lead
PD Digital Pad
PD Precious Gems
PD Soundtrack
SY Oldschool Arpeggiator
SY Sci Fi Bells

Synth information
Name of synth
Z3ta
What's inside?
No. of presets
128
Questions
Reviews
There are no reviews yet!
Shipping information
This product is digital only, no physical shipping is required.