Analog History for Behringer DeepMind 6-12-D - Solidtrax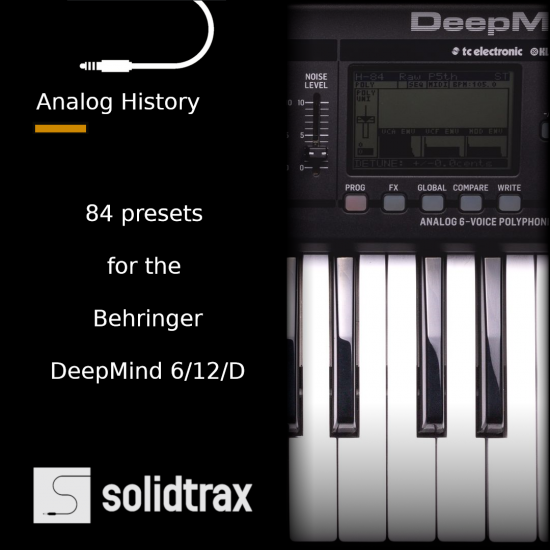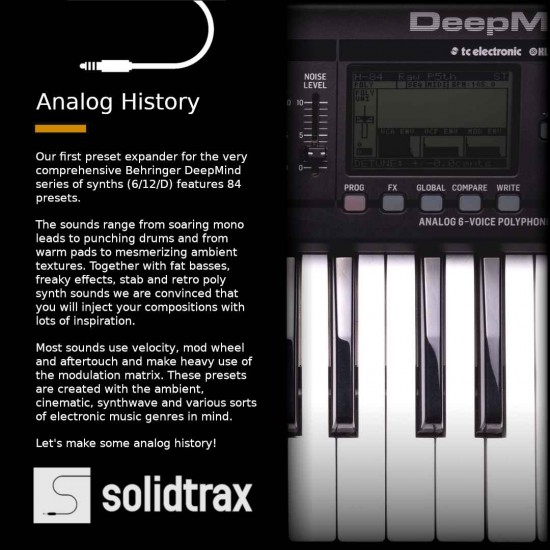 Presets Deepmind 12 Sound Designer -9 %


This listing is on sale
Discounts on this item are automatically applied. Click the button below to see more on sale items.
Analog History for Behringer DeepMind 6-12-D - Solidtrax
Overview
 Analog History for Behringer DeepMindAnalog History is our first preset expander for the very comprehensive Behringer DeepMind series of sy..
Status:

In Stock

Item ID:

IRFFB
Like this? Give it a share!
All major payment types accepted.
No payment details are kept on our server.
This pack is royalty free
Upon purchase you can use these sounds in your productions without worrying about copyright. You cannot re-sell, re-package in part or as a whole. Learn more
Send a message to Solidtrax
Please
Login
to contact & follow Solidtrax
Analog History for Behringer DeepMind
Analog History is our first preset expander for the very comprehensive Behringer DeepMind series of synths (6/12/D) and it features 84 presets. The DeepMind is a true analog synthesizer at a very affordable price.
It features two oscillators with a broad selection of modulation sources. Together with the highpass and resonant lowpass filters based on Rolands design from the 80's, the 8 channel modulation matrix, plenty of (loopable) envelopes, a sequencer and 4 effect processors it goes without saying that this is a very capable synthesizer. The sounds we created for you, range from soaring mono leads to punching drums and from warm pads to mesmerizing ambient textures. Together with fat basses, freaky effects, stab and retro poly synth sounds we are convinced that you will inject your compositions with a lot of inspiration.
Most sounds use velocity, mod wheel and aftertouch and make heavy use of the modulation matrix. These presets are created with the ambient, cinematic, synthwave and various sorts of electronic dance music genres in mind. They are created with OS v1.1.2.
Let's make some analog history!
Documentation
Does this contain documentation?
Yes, PDF file.
File Information
File type
.syx,
item information
Types of genres this pack is well suited to
Analog, Ambient, Cinematic, Synthwave, EMD, IDM, Experimental, Electronic,
What type of audio production pack is this?
Soundbank for Behringer Deepmind 6, 12, 12D.
Synth information
Minimum required synth version
The Behringer DeepMind 6, 12 or 12D with OS v1.1.2 or newer. MIDI OX or a DAW that is capable of playing SysEx files (.SYX).
Name of synth
Behringer Deepmind.
What's inside?
No. of presets
84
Questions
Reviews
There are no reviews yet!
Shipping information
This product is digital only, no physical shipping is required.