Freaky Electrons for Arturia MicroFreak - Solidtrax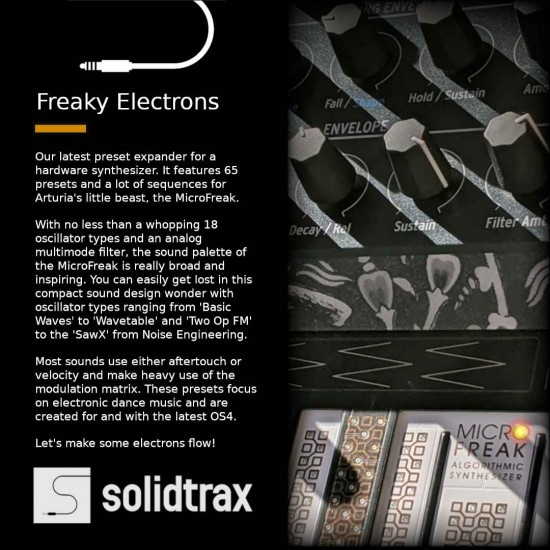 Presets Sound Designer MIcrofreak


Freaky Electrons for Arturia MicroFreak - Solidtrax
Overview
Freaky Electrons for Arturia MicroFreakWe proudly present Freaky Electrons, a preset expansion for the Arturia MicroFreak. In this expansion..
Status:

In Stock

Item ID:

FAFP8
Like this? Give it a share!
All major payment types accepted.
No payment details are kept on our server.
This pack is royalty free
Upon purchase you can use these sounds in your productions without worrying about copyright. You cannot re-sell, re-package in part or as a whole. Learn more
Send a message to Solidtrax
Please
Login
to contact & follow Solidtrax
Freaky Electrons for Arturia MicroFreak
We proudly present Freaky Electrons, a preset expansion for the Arturia MicroFreak. In this expansion you will find 65 presets that focus on a wide variety of sounds. Basses, leads, pads, effects, hypnotic sequences and even drums are included. The presets are inspired by a lot of electronic dance music producers from this era and the sounds will easily fit in genres like EDM, IDM and techno.
With no less than a whopping 18 oscillator types and an analog multimode filter, the sound palette of the MicroFreak is really broad and inspiring. You can easily get lost in this compact sound design wonder with oscillator types ranging from 'Basic Waves' to 'Wavetable' and 'Two Operator FM' to the 'SawX' from Noise Engineering.
Most presets will use either aftertouch or velocity and make heavy use of the modulation matrix. The presets focus on electronic dance music and are created for and with the latest OS4.
Let's make some electrons flow!
Included in the preset bank:
65 presets for the Arturia MicroFreak
17 percussion sounds
14 lead sounds
11 basses
8 sequences
7 pad sounds
3 key sounds
3 SFX
1 Brass
1 Vocoder preset
Documentation
Does this contain documentation?
Yes, PDF file.
File Information
File type
.mfprojz,
item information
Types of genres this pack is well suited to
EDM, Techno, IDM, Dance, Electronic, Analog,
What type of audio production pack is this?
SOundbank for Arturia Microfreak.
Synth information
Minimum required synth version
Windows 7 or newer. The Arturia MicroFreak with OS v4.0.1.1376 or newer. Arturia's MIDI Control Center v1.13.4.40 or newer.
Name of synth
Arturia Microfreak.
What's inside?
No. of presets
65
Questions
Reviews
There are no reviews yet!
Shipping information
This product is digital only, no physical shipping is required.