Hey! That's What We Call Bass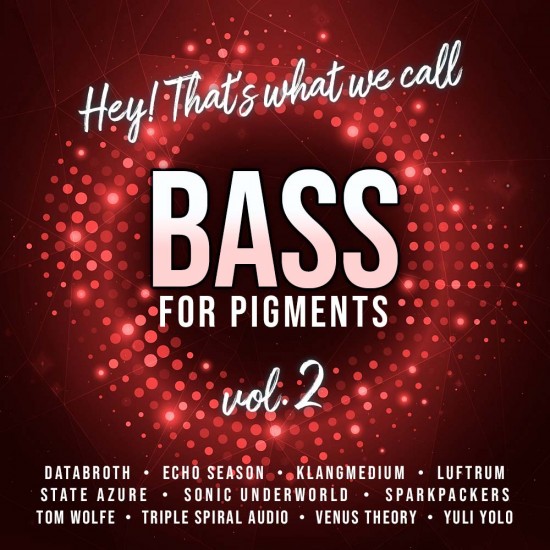 Presets Pigments Sound Designer


Hey! That's What We Call Bass
Overview
Gathering together a large group of 11 distinctive and noteworthy sound designers,Hey! That's What We Call Bass, vol. 2 contains 110 presets..
Status:

In Stock

Item ID:

1S928
Like this? Give it a share!
All major payment types accepted.
No payment details are kept on our server.
This pack is royalty free
Upon purchase you can use these sounds in your productions without worrying about copyright. You cannot re-sell, re-package in part or as a whole. Learn more
Send a message to Luftrum
Please
Login
to contact & follow Luftrum
Gathering together a large group of 11 distinctive and noteworthy sound designers,
Hey! That's What We Call Bass, vol. 2 contains 110 presets and is the second soundset in a series that explores a singular category of sound.
In this volume, bass are in focus and the synth is Arturia Pigments. Emerging from the depths of the sound lab, Luftrum and a crack-team of sound designers return with Hey! That's What We Call Bass containing 110 presets centered around bass.
Each sound designer's unique take on bass is different from the other and after extensive experimentation, they are pleased to report that all manner of that ever-important frequency range is well represented and poised to impress.
Sound designers include Databroth, Echo Season, Klangmedium, Luftrum, State Azure, Sonic Underworld, Sparkpackers, Tom Wolfe, Triple Spiral Audio, Venus Theory and Yuli Yolo and from the fruits of their labors they conjured up a diverse assortment of signature sounds topping off at a total of 110 Arturia Pigments presets.
Within this set you will find retro analog basses, fractured cinematic sequences, synthwave basslines, impossible low-end ripped out of subspace frequencies, bread & butter basses, plus forward-thinking EDM stabs and evolving sci-fi pulses, acoustic old-school bass emulations and gnarly neuro-laced textures. It's all there.
Hey! That's What We Call Bass aims to provide the broadest palette of bass sounds and leaves no stone unturned in its quest to add interest and weight to a mix.
This creative and inspiring collection of presets will satisfy the needs of the most demanding of producers from future bass, trance, and synthwave, to ambient, future garage and cinematic.
All four macro knobs have been carefully considered and assigned resulting in meaningful changes that can be used to good effect whilst playing live or recording in as automation. As always, Velocity, Modwheel and Aftertouch (when appropriate) are utilized to add expressiveness and nuance.
All the Arturia Pigments presets are tagged and categorized for easy identification.
The soundset is 434 MB and requires Pigments v3.5.1. It is fully NKS compatible and comes with NKS presets and NKS audio previews, for users of Native Instruments hardware. There's a PDF guide included, describing how to install the set.
Documentation
Does this contain documentation?
How to Install PDF
item information
What type of audio production pack is this?
Soundbank
Synth information
Minimum required synth version
Pigments v3.5.1
What's inside?
No. of presets
110
Questions
Reviews
There are no reviews yet!
Shipping information
This product is digital only, no physical shipping is required.